The jaw joint is commonly referred to as the Temporomandibular Joint (TMJ). An umbrella term for the dysfunction of this joint is called a Temporomandibu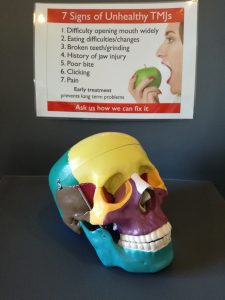 lar joint disorder (TMD).
TMD can present with a wide variety of symptoms:
Difficulty chewing/eating
Pain in the jaw, ear and/or face (headaches/earaches)
Clicking or popping sensation with opening/closing mouth
Open/Closed lock jaw
Jaw deviation on rest or opening/closing
Commonly the cause of TMD can be related to an event such as (but not limited to) direct trauma to the face & jaw, whiplash, dental procedures (i.e. wisdom teeth removal, braces), increased stress/muscle tension or overnight grinding of the teeth.
Leading research articles support the role of physiotherapy in managing TMD through treatment techniques which decrease pain and improve active range of motion.
Physiotherapists can help with your TMD by assessing where the pain and clicking originates, treating the cause, as well as education about the condition. Treatment can consist of manual therapy, ultrasound, dry needing and exercise prescription. Adherence to the exercises are key to maintaining and improving your TMD, just like any other injuries/conditions.
Our physiotherapist Tom Cho has completed the Latimer Technique Course for TMJ  disorders in 2015. He has since had high success rates treating patients with TMD and will be happy to assess your condition.
For more information or to book an appointment please contact us on 07 3886  9470 (Narangba) or 07 3888 6699 (Burpengary).